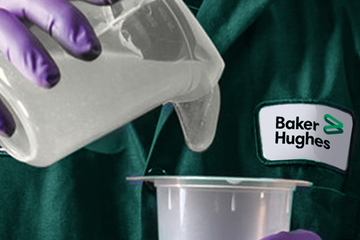 MEFRCLHP
Medallion Frac LPH
Water-based CMHPG zirconium frac fluids
Ensure excellent fracture fluid stability in higher temperature wells with Medallion Frac™ HT fracturing fluid systems.

These premium, high-performance systems use a refined guar polymer derivative (CMHPG) and proprietary zirconate complexor chemistry to crosslink at a high pH.

Medallion Frac HT fluids are delayed crosslinked systems that are stable at temperatures reaching 400°F (204°C) and are compatible in nitrogen-based fluids. The high-viscosity fluids deliver proppant deep into your fracture network, even during extended pump times when other fluids often fail and contribute to premature screenout.

Medallion Frac HT poses no severe friction problems, making the fluid systems ideal for either casing or tubing frac applications. And with their excellent retained fracture connectivity and high fluid efficiency, you can use Medallion HT Frac fluids in your smaller pad volumes and required polymer loadings as compared to conventional fluids.
Features and Benefits
• Reduces proppant crushing and fines generation
• Minimizes production declines due to fines migration and cyclic stress on the proppant pack
• Maintains proppant pack conductivity
• Increases resistance to proppant flowback
• Maintains fracture width over time
• Maintains proppant pack conductivity
• Comparable with common mix water and stimulation additives
• Facilitates logistics and testing requirements and reduces associated costs