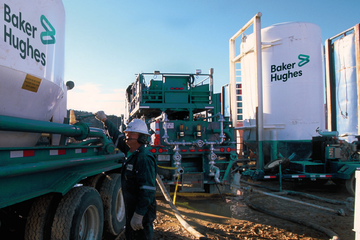 L398415-00
LiteSet - Lightweight Cement System
The LitSet premium cement system uses nitogen or air to foam base slurry to a lightweight density to produce a high-strength cement system. A second option uses lightweitht , high stength spheres to create a low-density, high-strength cement system.
Your price
Contact us for pricing
Get assured performance in your low-fracture-gradient environments and high induced-stress wells with the Baker Hughes LiteSet™ premium cement system. Using a nitrogen or air-to-foam base slurry, the LiteSet system produces a high-strength, lightweight density cement that achieves exceptional compressive strength for your permeable or fractured formations.

Once the optimum balance of cement, spheres, and water are achieved for desired density your base design, we work with you to add other components to develop slurry properties that satisfy well parameters. LiteSet cement systems are used in primary cementing operations that require premium lightweight cement systems as well as shallow water flow and gas migration environments.

The LiteSet system is part of our ongoing commitment to solving potential problems at the wellhead. And because a single slurry does not fit all applications, we design the LiteSet cement system with unlimited flexibility.