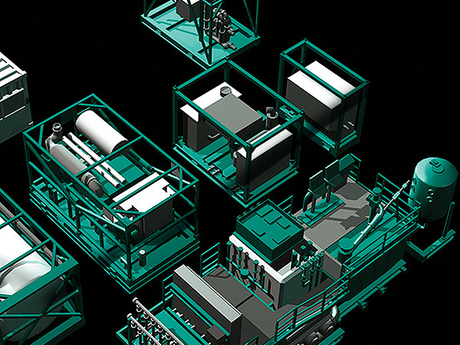 L398215-00
DeepSet - Deepwater Cement System
The DeepSet™ cement system is a fit-for-purpose system which is designed to control shallow water and gas flow in deep-water drilling environments. The DeepSet cement system provides shorter transition time and allows for rapid compressive strength development at low temperatures to reduce Waiting on Cement (WOC) time. These systems can be used as the primary completion "Tail" cement and as a base for foamed lightweight "Lead" cement. Non-foamed, low density DeepSet systems can also be formulated using density modifiers such as LW-6 or other lightweight additives to provide slurries with superior mechanical properties than conventionally extended systems.
Ensure reliable zonal isolation in your deepwater wells with the DeepSet™ cementing system from Baker Hughes. Designed to prevent the flow of shallow water and gas from select zones, the DeepSet system gives you a lifetime of protection in your most challenging offshore wells.

As part of the Set for Life™ family of cement systems, DeepSet cement slurries provide reliability and efficiency while isolating and protecting the targeted zone for the life of your well. This system offers early compressive strength development at low temperatures with minimal transition time. It also serves as the primary completion cement and the base cement for foamed lightweight cement.
Features and Benefits
• Controls shallow water and gas flow
• Minimal transition time and rapid compressive strength development
• Fit-for-purpose designs for specific applications
• Allows zero free-water development under deviated conditions
• Low fluid loss
• Real-time well conditions determine the final slurry composition
• Can be designed with virtually all API and ASTM cements
• Compatible with most BH cement additives
Applications
•Deepwater, shallow water flow and gas migration environments