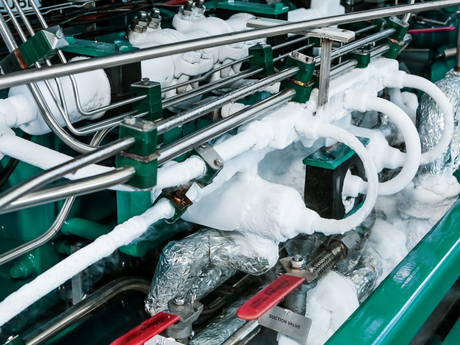 FCS
FoamSet- Foam Cement System
The FoamSet cementing system is designed to provide wellbore integrity and ensure proper zonal isolation in both onshore and offshore horizontal and extended-reach wells.
Mitigate lost circulation and shallow water/gas flows with FoamSet™ cementing systems from Baker Hughes. The versatile, all-liquid system also delivers improve fluid displacement efficiencies as compared to conventional cements, saving you time and money on your completion.

FoamSet cementing systems are part of the comprehensive Set for Life™ family of cement systems. FoamSet systems offer reduced hydrostatic pressure, which lowers your risk of formation breakdown to minimize lost circulation risks in thief zones. The foam expands to fill the area, thus ensuring complete cement coverage across the zone.

FoamSet cementing systems also give you excellent protection against multiple shallow hazards including shallow water flows, shallow gas, and hydrates. While conventional cement systems can be susceptible to shallow water/ gas influx as the cement slurry sets, the FoamSet system maintains a more constant pressure. This feature keeps the water or gas in the formation and out of the cement in the annulus.

The integrated FoamSet cementing system also includes foamed spacers to provide a more viscous fluid to scour and remove any immobile mud from your annulus.
Applications
•Offshore/Deepwater environments
•Geothermal wells
•Horizontal and extended-reach applications