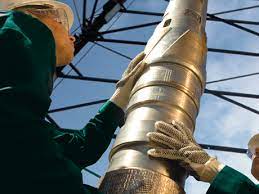 SNDTK
SoundTrak™
The Baker Hughes SoundTrak™ acoustic logging-while-drilling (LWD) service provides compressional and shear wave travel time in all formations, delivering accurate and reliable logging performance in challenging drilling environments. Using quadrupole technology, this service allows operators real-time access to critical formation information that maximizes drilling efficiency and enhances wellbore stability even in larger holes and slow formations.
Get real-time access to critical formation information while drilling with the Baker Hughes SoundTrak™ acoustic formation measurement service. By providing highly accurate and flexible acoustic measurements while drilling, the SoundTrak service gives you the real-time insights you need to maximize drilling efficiency and wellbore placement.
Advance your logging-while-drilling data measurements with the SoundTrak service's proprietary acoustic technology. This technology directly measures valid formation slowness and incorporates multifrequency excitation to ensure high data quality in both fast and slow formations, as well as in a wide range of hole sizes.
Use these measurements for real-time and post-well applications, including:
•Seismic time-depth tie to precisely determine formation depth and thickness
•Formation strength calculation to identify sanding potential and early-onset borehole stability issues
•In extremely soft (slow) formations, the SoundTrak service offers a unique quadrupole excitation that provides direct shear slowness measurements, thus eliminating the need for large dispersion corrections typical for LWD dipole acoustic tools.
The service enhances the quadrupole signal-to-noise ratio through the use of azimuthal receiver array configuration and stacking as well as a mechanical acoustic isolator.
Use the SoundTrak service as a direct input into pore pressure prediction to help mitigate potential drilling hazards in real-time. The service also affords real-time updating of pre-drill models when suitable data for pore pressure prediction are available.
The SoundTrak service's real-time compressional slowness measurements also provide a reliable method for correlating and updating pre-well seismic models. This facilitates the location of the bit relative to the seismic section, thus affording more precise wellbore placement and increasing hydrocarbon recovery.
The SoundTrak service places its advanced array technology inside a rugged tool housing—ensuring you accurate and reliable logging performance comparable to advanced wireline measurements—in some of the industry's most challenging drilling environments.
Features and Benefits
• Salinity-independent measurements for real-time pore-pressure prediction using compressional slowness measurements
• Prevents blowouts and wellbore collapse
• Optimizes drilling efficiency by maintaining safe, low mud weights
• Reduces stuck pipe incidents
• Seismic time-depth ties
• Maximizes hydrocarbon recovery through precise wellbore placement
• Rock mechanical properties
• Improves safety through early identification of sanding potential and wellbore stability issues
• Early detection of shallow gas, using acoustic light-hydrocarbon indicator
• Reduces the number of conductor pipe sections required
• Improves drilling safety in offshore environments
• Acoustic porosity evaluation
• Reduces need for radioactive or chemical sources to determine sourceless porosity