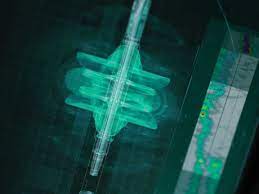 MTK
MagTrak™
The Baker Hughes MagTrak™ magnetic-resonance-while-drilling service offers precise, dependable answers to critical questions regarding fluid properties, total and effective porosity, and permeability estimations in production zones. Measurements are lithology independent, and the tool does not utilize radioactive sources. Unlike other while-drilling magnetic resonance services, operators can rely on the system's real-time answers because the tool principle and design minimize the risk of drilling vibration effects on the data. Operators gain a comprehensive understanding of the reservoir quality to optimize a well's productivity throughout its life cycle.
ur MagTrak™ LWD magnetic resonance service offers industry-standard, T2-based, real-time magnetic resonance data that locates and identifies producible fluids even under the most difficult drilling conditions, such as high inclination and high-risk wells.

These high-quality pore space measurements are acquired while drilling, without impacting rates of penetration (ROP), and include accurate porosity, fluid type identification, and an estimate of permeability.

Real-time data offers invaluable support for geosteering while quantifying the amount of recoverable hydrocarbons. You can keep the well path in the most porous and permeable reservoir zone, saving rig time and increasing net-to-gross pay by quickly identifying reservoir quality changes. This approach also enables you to make faster decisions while drilling.

The real-time T2 spectrum allows identification of the formation fluid type while estimating saturation levels, permeability, and in-situ fluid viscosity. When the MagTrak tool is positioned below the FASTrak™ LWD fluid analysis sampling and testing service tool in the bottomhole assembly (BHA), you can station the FASTrak packer for an optimal sample immediately after evaluating the interval. The MagTrak tool has the industry's most comprehensive borehole size coverage, ranging from 5 ¾ in. to 12 ¼ in. and can be run in almost any borehole fluid with Rm ≥ 0.02 ohm-m, at temperatures up to 302°F (150°C).


Features and Benefits
• Accurate T2 magnetic resonance logs
• Improves real-time and post-well decisions on reserve estimates, petrophysical characterization, fluid typing, and wellbore placement
• Eliminates motion effects on measurements induced by drilling vibration
• Delivers accurate T2 magnetic resonance logs
• Optimizes reservoir drainage strategies with dependable fluid volume estimates
• Sourceless porosity
• Reduces lost-in-hole risk by accurately measuring porosity without using a radioactive source
• Real-time T2 spectrum transmitted to surface
• Improves real-time quality control and fluid typing