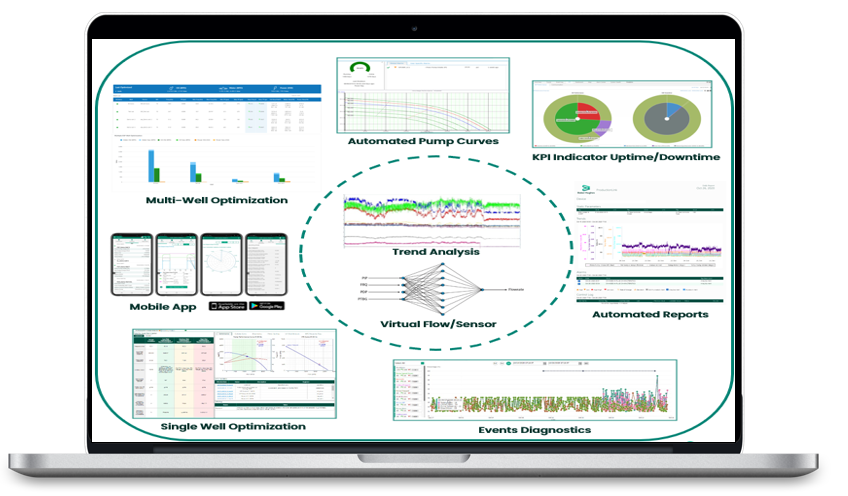 PLI02
ProductionLink Insight
ProductionLink Insight is an Industry-leading software platform to monitor all types of lift systems. Its predictive and diagnostic suite of analytics enable instantaneous identification of trends, patterns, and anomalies to diagnose downhole conditions for quick decision making.
Your price
Contact us for pricing
Whatever downhole pumps you're running, ProductionLink™ Insight & Expert service empowers you to monitor the health of artificial-lift systems, stay ahead of potential problems, and maximize recovery from artificial-lift operations. Supported with 24/7 surveillance by a team of experts who continuously monitor the condition of downhole assets and well conditions, our collaborative, data-rich artificial-lift monitoring application extends equipment run time and prevents frequent shutdowns to change pumps. With seamless support for a wide range of data types, the application minimizes well-intervention costs, production losses, and power consumption, while optimizing lift performance and production. Leveraging rich data sets on historical performance and successful past actions, our analytics give you the actionable insights you need both to optimize well performance and to mitigate risks associated with potential tool failures—before problems actually arise. If and when corrective action is required, you're armed with the intelligence you need to take remedial action early.
Features and Benefits
• Platform i.e.
• Support all lift types (ESP, PCP, ROD, Gas, Plunger etc.)
• Compatible with common data standards viz. MODBUS, DNP3, PRODML, ETL, OPC-UA
• Web and mobile visualization
• Secure, scalable and flexible deployment models
• Service enablement i.e.
• Field connectivity and system setup
• Onboarding wells, devices and users
• Well asset creation
• Template and tag management
• Equipment health and reliability
• Condition-based monitoring
• Smart alarming
• Event and case management
• Descriptive, prescriptive and predictive analytics
• Diagnostic
• Equipment diagnostics and failure identification
• Pump performance curves
• Deferred & production variance analysis
• Dynacard library and pattern matching
• Production optimization
• Single well optimization and diagnostics
• Virtual flow and gauge meter
• Analytics
• Multi-well optimization