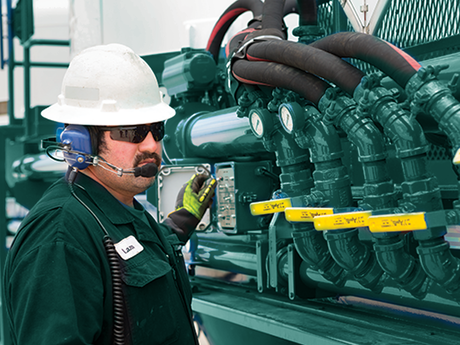 MLB
MultiBond
The MultiBond spacer is a stable fluid designed to recoere expensive oil and synthetic based drilling fluids while preparing the well for a cement job. MultiBond promotes effective mud removal, along with hydraulic and shear cement bonds for an improved zonal isolation.
Effectively recover expensive oil- and synthetic-based drilling fluids from your well with the Baker Hughes MultiBond™ spacer system.

A stable, cost-effective fluid, the MultiBond spacer offers adjustable densities and optimized rheologies. Our cementing experts customize the spacer to your downhole conditions for improved zonal isolation.

The spacer also offers excellent suspension characteristics—delivering a stable fluid even in your highly deviated and horizontal wells. And to further reduce costs and simplify logistics, we can easily mix the MultiBond spacer on location.
Features and Benefits
• Cost-effective
• Economical recovery of high volumes of non-aqueous drilling fluids
• Enhanced wellbore integrity and assists in stabilizing the wellbore
• Promotes hole cleaning and enhanced cement bonds
• Shields casing from corrosion
• Design optimization
• Engineered to match wellbore conditions
• Offers fluid and additive compatibility
• Available in a wide range of densities
• Operational efficiency
• Prepared and pumped with conventional pumping equipment