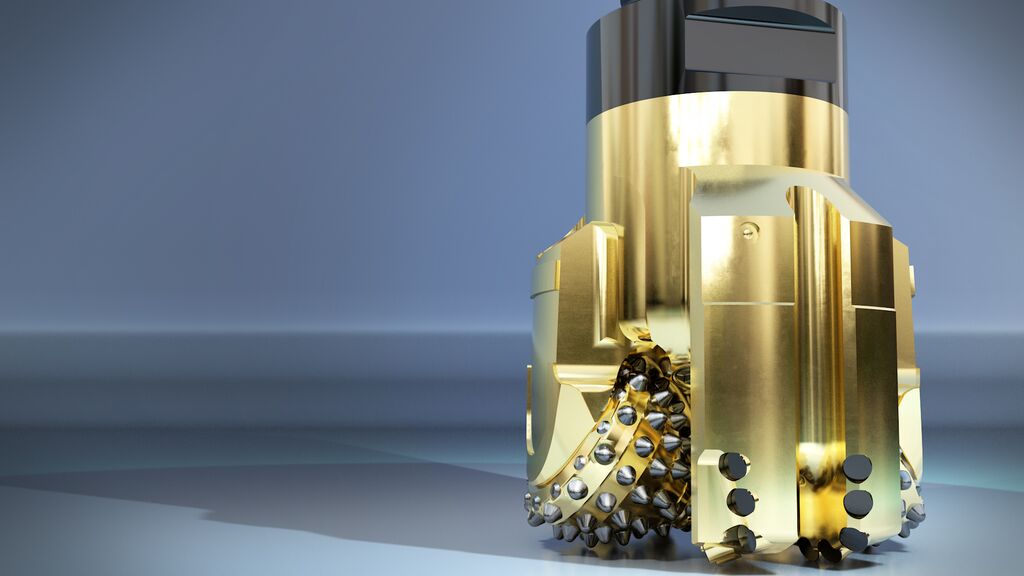 KMHDB
Kymera™ Mach 5 hybrid drill bit
The drive to improve penetration rates has seen the introduction of high torque motors and higher weight on bit, making it increasingly challenging to find the right bit for this tougher operating environment. Steering issues make it difficult to land in the desired target and compromise overall penetration rates. Bit durability has been limited in harder formations and intervals with interbedded hard streaks. Kymera™ Mach 5 hybrid drill bit from Baker Hughes extends the hybrid bit application range, increases rate of penetration (ROP), improves steerability, and provides longer bit life in high energy drilling environments.
The Kymera™ Mach 5 hybrid drill bit extends drilling lengths from typical curve sections to handle combination sections of the well—saving trips and replacing both roller cone and polycrystalline diamond compact (PDC) bit runs. The Kymera Mach 5 drill bit extends your performance, digging beyond the curve.

Drawing on our drill bit expertise, the Kymera Mach 5 hybrid design package features precision balanced blade count and cone optimization, resulting in a proven performance step-change.

•Increased blade counts improve lateral stability while making the bit more aggressive to stand up to wear and tear
•Recessed cutters increase diamond volume, which improves durability to keep the bit engaged and extend distance drilled
•Sharp, dense cone sets further allow improved rates of penetration (ROP)
•Cutter selection options include Dynamus™ extended-life drill bits, StayTrue™ shaped diamond element technology, and Stabilis™ dual-chamfer cutters specifically selected to handle increased loads of challenging drilling environments to improve drilling speed and efficiency.
Features and Benefits
• Increased application range
• Higher penetration rates
• Improved steerability
• Longer bit life
• Reduced drilling cost
Applications
• Challenging carbonates
• Hard interbedded formations
• Vertical and/or curve sections
• Directional drilling with motors or rotary steerable systems (RSS)
• High-energy drilling environments