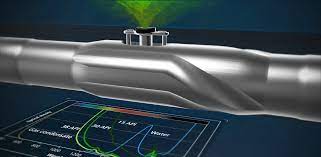 FTK
FASTrak™ Prism
The Baker Hughes FASTrak™ logging-while drilling (LWD) fluid analysis, sampling, and testing service provides key petrophysical information to determine reservoir volume, fluid producibility, type and composition of the movable fluids. It combines the accurate pressure testing functionality of Baker Hughes TesTrak™ service, while addressing the growing need of real-time fluid identification and acquisition of representative fluid samples while drilling, resulting in significant cost savings. The FASTrak Prism service is the latest generation of FASTrak. It includes all the features and benefits of its predecessor with the addition of VIS-NIR optical absorbance spectroscopy measurements for improved fluid characterization.
The FASTrak Prism service adds a new level of measurement precision to the proven family of FASTrak fluid sampling-while-drilling solutions. Through its advanced sensors—including a VIS–NIR spectrometer—the FASTrak Prism service fully characterizes your reservoir fluids, in real-time. The service also provides real-time formation pressure and mobility data for enhanced efficiency, superior well placement, and improved wellsite safety.
And through its multi-channel optical density and fluorescence measurements, the service allows you to:
•Accurately quantify fluid type and fluid fractions in multi-phase flow
•Map compositional changes within a reservoir column
•Assess reservoir connectivity
•Monitor and maintain single-phase flow when sampling reservoirs close to saturation pressure
•Continual fluid measurements while drilling reduce risk and rig time, while accurately tracking any contamination and reservoir fluid properties prior to capturing a fluid sample.
Real-time characterization rarely provides the full reservoir analysis you need for strategic decision making. The FASTrak Prism service collects fluid samples with the quality, volume, and reliability required for confident, accurate analysis.
The service collects up to 12 liters of single-phase reservoir fluid per run—more than other commercial logging-while-drilling (LWD) services can reliably deliver. This gives you the fluid volumes you need for more detailed analysis, without multiple sampling runs.
And to ensure sufficient quality, the FASTrak Prism service incorporates proven FASTrak sample collection methods. The sample tanks use a nitrogen pre-charge to keep your samples in single-phase state, which maintains sample pressure above both the asphaltene onset pressure and saturation pressure. The service's SmartPad™ closed-loop sealing system provides an efficient seal, even in highly unconsolidated sand formations and irregular boreholes.
Features and Benefits
• SmarTest™ intelligent testing system
• Provides optimized parameters that reduce BHA stationary time and ensures valid data
• Multiple drawdowns per test station
• Calculates mobility in real time
• Identifies formation mobility for estimation of producibility
• SmartPad™ closed-loop sealing system
• Increases seal efficiency during sampling and testing
• Real-Time Fluid Analysis
• VIS/NIR Optical absorbance and UV fluorescence spectroscopy
• Enhances critical decision making based on fluid identification and fluid typing during sampling
• Direct measurement of density, refractive index, and sound speed
• Enhances estimation of producible reserves and direct calculation of gas/oil ratio (GOR)
• Sampling and pressure testing while circulating
• Reduces risk of differential sticking of BHA
• High-accuracy pump control
• Increases efficiency during pump through and cleanup operations
• Compressibility and drawdown mobility
• Provides accurate measurements in immiscible fluids for cleanup detection
• Capture of up to 16 single-phase samples
• Maximizes fluid volume recovered in a single run
• Multiple samples per pressure station
• Reduces pump-out time for consecutive samples and possible sample validations
• Chemical-resistant metallurgy
• Reduces pump-out time for consecutive samples and possible sample validations
• Collects representative fluid samples for geochemical analysis
• Single-phase sample tank technology
• Avoids asphaltene and wax precipitation during sample retrieval at surface
• JewelSuite Software
• Full Real-Time analysis and Post Job Deliverables