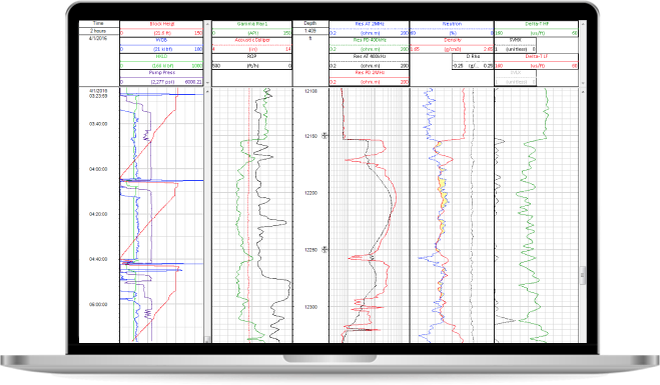 WLNKRT
WellLink™ RT
The WellLink™ RT service optimizes web-based delivery of advanced visualization and analysis capabilities for real-time data regardless of the data density acquired. WellLink RT is a vendor neutral data aggregation and visualization solution, supporting industry standard data types such as WITSML and OPC. The web-based interface is easy to use and configure, graphically integrating any type of WITSML data from diverse sources such as MWD/LWD, MudLogging, Wireline, Casing, Cementing, Pressure Pumping, Drilling Instrumentation. WellLink RT is backed by a globally integrated environment that features loadbalanced and geographically redundant systems enabling collaboration with clients, support of enterprise well site operations, and real-time decision-making by entitled professionals regardless of their disciplinary or geographic borders.
Your price
Contact us for pricing
Aggregating and extracting useful insights from multiple streams of wellsite data is time-consuming and inefficient. The WellLink™ RT (WLRT) application solves the problem by seamlessly coordinating a diverse range of real-time data streams, at every phase of well construction.
Whether you're handling LWD, MWD, drilling, or mudlogging information, you don't need to worry about compatibility. Designed for use with industry-standard data formats, the WLRT application can receive data from any vendor, using WITSML, WITS 0, or OPC-UA. It also supports connections via WITSML-compliant third-party applications.
But the WLRT application doesn't just aggregate data. It enables actionable insights, displaying advanced visualizations through a powerful and intuitive web-browser interface or a dedicated mobile app.
The WLRT application isn't just user friendly and flexible. Connected to our redundant data hubs, it's secure and fast, too. Supporting Energistics Transport Protocol (ETP) with 1-second frequency, the WLRT application ensures remotely distributed teams make decisions using exactly the same data as the wellsite teams. Chat functionality and an audit trail provide practical tools for remote operations and efficient collaboration across disciplines and borders.
Features and Benefits
• Remote data visualization
• Vendor agnostic
• Extensive library of display formats
• Detachable displays
• Flow back fingerprinting
• 2D/3D cross plots
• Smart scaling
• Reservoir navigation displays
• Data analysis
• Smart agents
• Flow back fingerprinting
• Activity break down
• Alarms
• Offset well view
• Mobile iOS app
• Security assurance
• Data compression and encryption
• Versatile entitlement management
• Data management
• Industry standard data formats
• Import / export of various file types
• Built-in data validation
• Quality assurance and control alarms
• Well construction expertise
• 24/7 technical support and 3 global support hubs
• Regional support centers