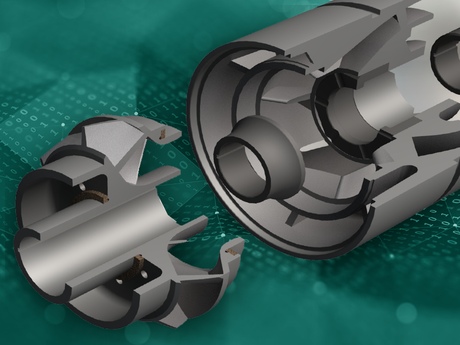 Vanguard high-performance construction motors
Vanguard high-performance construction motors
Ensure reliable performance in demanding electrical submersible pumping (ESP) applications with Vanguard™ high-performance construction motors from Baker Hughes. Vanguard motors provide sustained, robust operation in demanding well applications where high temperatures, higher solids content, and other harsh conditions exist.
The Vanguard technology is available in the 562, 725 and 880 series motors, each of which incorporates the following features:
•An involute spline shaft running throughout the motor assembly provides better horsepower transmission per shaft size and self-centers for low vibration
•A self-leveling, tilting pad thrust bearing design with polymer-coated pads delivers a higher temperature rating and improved wear characteristics
•A compensating spring holds the rotor stack in place during shipment and start-up, while improving motor reliability by allowing the motor stack to move on the shaft due to thermal growth
•A specially designed carbide rotor bearing system ensures reduced vibration and improves stability of the rotating assembly within the stator bore
•A dual T-ring PosiLock™ motor rotor bearing system contributes to the rotating assembly compliance while allowing for shaft thermal growth
•An encapsulation system featuring vacuum epoxy filling technology affords higher temperature capability, faster heat transfer, winding mechanical support, and protection and reduction in oil expansion volumes for improved reliability
•Hardened end bearings utilize a carbide journal bearing at the top and bottom of the motor for enhanced shaft stability and improved reliability
Vanguard motors also include zero leak fill and drain valves that use a metal-to-metal seal with a O-ring back up for redundant protections. This type of seal is impervious to thermal cycles and will not leak, unlike standard valves that use a lead gasket that solely relies on compression to seal properly.
Features and Benefits
•Impervious to contamination and debris inside motor
•Operates reliably at high wellbore temperatures
•Withstands corrosive production environments
Applications
•Corrosive and high-solids production conditions
•High temperature wells
Popular resources