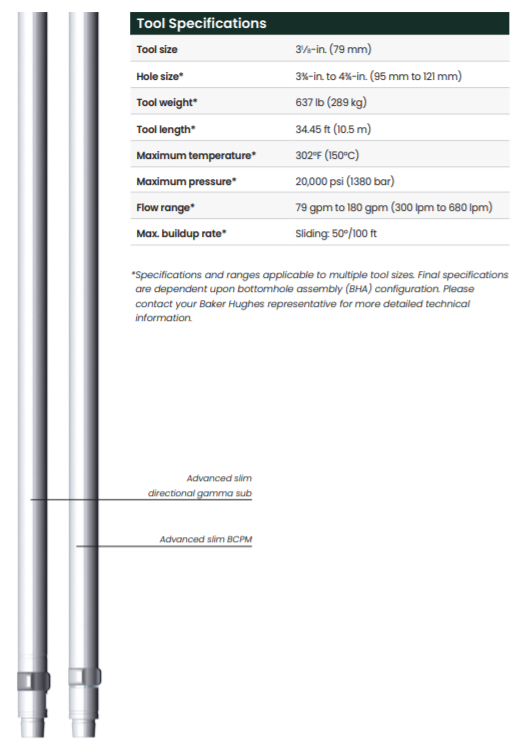 TTRD
Advanced Slim MWD System (TTRD)
The Baker Hughes Advanced Slim MWD system accesses bypassed reserves in mature reservoirs faster and more efficiently. Operators can optimize drilling performance in challenging through-tubing rotary drilling (TTRD) or slimhole applications through an industry-exclusive downhole drilling service. The real-time formation data and proven well-path control improves reservoir contact and increases production from the new wellbore.
Your price
Contact us for pricing
The system lets you optimize drilling performance in both standard slimhole and through-tubing rotary drilling (TTRD) re-entry in your aging fields. Real-time formation data provided by fully integrated measurement-while-drilling (MWD) and logging-while-drilling (LWD) tools delivers accurate geosteering capability for optimal wellbore placement and improved reservoir contact.

Achieve greater drilling efficiency and greater reservoir access by combining the Advanced slim MWD system with the NaviDrill motor technology, which improves drilling control at reduced operational risk. The system also provides precise equivalent circulating density (ECD) measurements to minimize wellbore integrity risks during drilling.

With the Advanced slim MWD system on your drill string, you are ultimately assured extended field life and maximized recovery from your existing assets.
Features and Benefits
• Integrated and modular slim MWD/LWD system for TTRD and slimhole applications
• Increases hydrocarbon recovery in mature fields through re-entry technology
• Drilling performance sub provides real-time downhole operating parameters
• Improves drilling efficiency and penetration rates
• Mitigates and manages risk through precise equivalent circulating density (ECD) measurements
• Geosteering capability based on gamma and resistivity measurements
• Optimizes wellbore placement, using real-time formation data and well-path control
• Flow-off services
• Minimizes nonproductive time (NPT) with logging-while-tripping or flow-off surveys