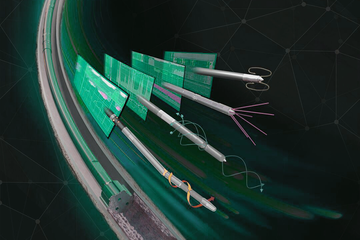 CTK
CoilTrak™
The Baker Hughes CoilTrak™ coiled-tubing drilling (CTD) system delivers highend drilling services for challenging coiled-tubing re-entry applications, including underbalanced and H2S applications. The modular, coiled-tubing drilling system integrates selectable steering control, aligned downhole sensors, and geosteering capability to reduce drilling time, optimize wellbore placement, and minimize formation damage for improved production.
Built on our 25 years of continuous CTD BHA project execution and technology development, the CoilTrak BHA is modular in design so that configuration changes can be made, as needed, on location. The BHA's state-of-the-art steering functionality is controlled by an automated, continuous downhole closed loop control system. This system, coupled with optional formation evaluation and reservoir navigation services, helps maximize the net-to-gross ratio in reservoir. This translates to improved project economics in the form of higher production rates.

Changes to the well trajectory or other downhole programming are efficiently communicated in real time from the surface via the coiled tubing e-line. This real-time, two-way communication provides operational control, optimization, and direct control and activation of BHA functionalities downhole, without interrupting the drilling process.

The CoilTrak BHA provides additional project cost savings and benefits by limiting the time and frequency of well preparation and workovers. The BHA can also be run in an underbalanced drilling mode to limit reservoir damage and increase production rates for longer periods of time.

Additional integrated services like pressure barriers and deployment tools help to further minimize formation damage and improve project efficiency. The CoilTrak BHA can be deployed and undeployed on live wells with wellhead pressure present, allowing for uninterrupted production during the re-entry operation.

The CoilTrak BHA is an integral part of the Baker Hughes CoilTrak™ coiled-tubing drilling system. The integrated systems have helped operators address specific needs like pass-through capability for reduced workover investment, managed pressure drilling services for improved well integrity, and reservoir navigation for precise wellbore placement.
Features and Benefits
• Fully integrated and modular CTD system with flexible setup
• Reduces nonproductive time (NPT) through on-location, customized bottomhole assembly (BHA) adjustments
• Data transmission and communication through single wireline conductor
• Improves efficiency through high-density, real-time data
• Reduces formation damage and optimizes recovery rates by underbalanced capability
• Selectable directional system with automated, closed-loop steering control and near-bit inclination sensors
• Optimizes wellbore placement through precise directional control
• Maximizes reservoir access
• Minimizes drilling time
• Resistivity and gamma LWD service
• Improves reservoir contact and production through geosteering
• Provides real-time data for weight on bit (WOB), bore and annular pressure, and vibration
• Increases rate of penetration (ROP) and efficiency through optimized drilling parameters
• Mitigates risk through reliable and precise ECD control and management