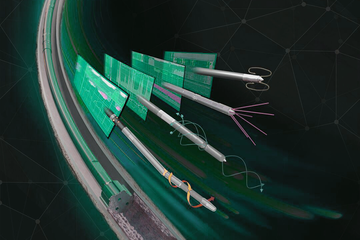 ITK
ImageTrak™
The Baker Hughes ImageTrak™ service provides high-resolution borehole images while drilling in any type of drilling fluid, it offers high resolution borehole imaging both in conductive and non-conductive medium. Borehole imaging has been used for several decades to calculate borehole caliper, stress, breakout orientation, and stratigraphic and geologic structure imaging in conventional wells. Borehole wall images are now commonly used for fracture characterization during well planning to optimize hydraulic stimulation and maximize the possible return from a reservoir. The ImageTrak service is currently delivered by a 63 /4-in. ORD version 2.8 sub which can at the same time provide the standard LithoTrak service or could be standalone. The service is only available in memory mode while drilling and not real-time.
The ImageTrak™ high-resolution ultrasonic borehole imaging service provides detailed images, enabling you to evaluate formation fractures, features, and borehole geometry in any type of borehole fluid, including oil-based mud.


Poor borehole quality and/or stability issues stem from various root causes, such as inherent formation characteristics, a poorly designed or matched drilling fluid, and/or mechanical problems caused by bottomhole assembly (BHA) vibration. Because these issues result in major revenue losses, you need a service that will help you evaluate formation problems. The ImageTrak ultrasonic transducers measure amplitude and travel time, generating a 256-sector image of the wellbore. The amplitude image represents acoustic impedance contrasts of the borehole wall, allowing you to identify and evaluate variations within lithology, bedding, lamination, or physical rock features. The ImageTrak service provides you the visibility to reduce nonproductive time (NPT) and lower the risk of losing a BHA in the hole when you have to drill difficult wells with geomechanical challenges.

Optimize completion design, maximize hydrocarbon production
In unconventional applications, fractures are the key to productivity of a well. During drilling, the wellbore will have natural and induced fractures, and they can be opened or closed. The ImageTrak service travel-time image displays the oriented borehole shape and size, so you can assess the distance of the transducer to the wellbore wall. This is advantageous for identifying opened, closed, and mineralized fractures. The ImageTrak service provides you with high-quality images that will facilitate an optimum completion design so you can maximize hydrocarbon production and minimize water production.
Features and Benefits
• High quality ultrasonic acoustic transducer
• Measures both Amplitude and Travel Time to obtain fully sampled images of the borehole surface.
• 3D Borehole image visualization
• Enables client to evaluate borehole quality
• High sampling rate
• Enables a 256 sector circumferential resolution (1.4°) which is sufficient to fully sample the borehole wall in the typical ROP and RPM ranges experienced while drilling