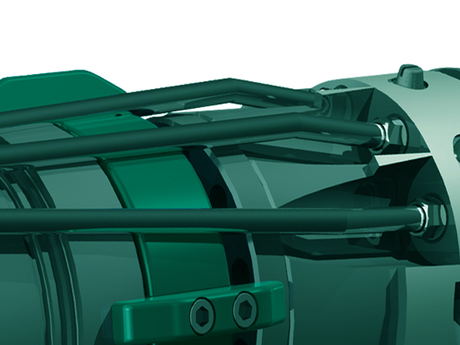 CentriLink motor lead extension
CentriLink motor lead extension
When you need a robust connection between your electrical submersible pump (ESP) and its power source, the Baker Hughes CentriLink™ motor lead extension (MLE) delivers. Our extensive portfolio of MLEs deliver superior motor connection electrical properties at higher temperature, voltage, and amperage ratings—giving you the reliability you need in increasingly challenging oilfield applications.
Your price
Contact us for pricing
The CentriLink MLE's enhanced design includes increased tracking distance to ground, which improves the dielectric strength of the motor insulating block and motor lead connection. And with its advanced materials of construction, enhanced insulating block, and patented internal seal, the MLE increases your ESP system reliability at higher temperatures while improving resistance to rapid gas decompression. The CentriLink MLE features several enhanced sealing properties to prevent wellbore fluid or debris from entering the motor. The MLE's plug-in connection is designed to reduce rig time and minimize contamination risks during installation. And thanks to its special factory-installed isolation device, the MLE allows field technicians to perform cable and electrical integrity tests with no exposure to potential contaminants or HSE risks.
Features and Benefits
•Prevent well fluid contamination with robust internal seal and plug-in connection
•Ensure reliable operation at higher temperatures with advanced metallurgy and thermoplastics
•Prevent debris ingress with enhanced motor insulating block interface
Applications
•Conventional and unconventional oil wells
•Wells with high H2S content
•Wells with high gas content
•Wells that experience thermal cycling
Popular resources