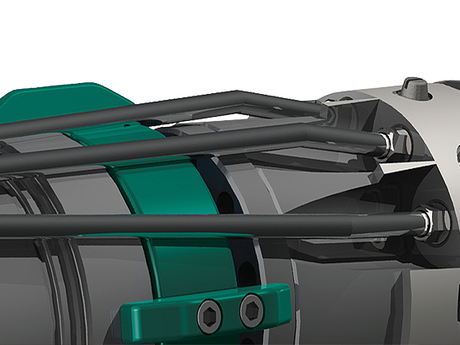 CentriLink SHIELD harsh-environment motor lead extension
CentriLink SHIELD harsh-environment motor lead extension
Ensure the electrical integrity of your electrical submersible pumping (ESP) systems in harsh downhole conditions with the CentriLink SHIELD™ harsh-environment motor lead extension (MLE) from Baker Hughes.
Your price
Contact us for pricing
Adapted from field-proven safety valve technology for completions in demanding deepwater environments, the CentriLink SHIELD MLE's robust design mitigates the potential for gas and fluid ingress into the motor and the power cable. The CentriLink SHIELD MLE seamlessly integrates with CENtrilift™ XP motors and CENtrilift XP motors with Vanguard™ construction. The MLE includes several design features that prevent installation-related issues that can negatively impact system uptime. The MLE incorporates three metal-on-metal primary seals that feature a compression fitting assembly attached to non-corrosive Monel encapsulated copper conductors. The seals seat securely into a tapered port in the motor head assembly. By eliminating the elastomeric materials and the majority of the potential leak paths typical in standard plug-in MLE designs, the CentriLink SHIELD MLE handles pressure changes and reduces the potential for H2S migration into the motor and cable. As a result, your system is protected from catastrophic damage resulting from rapid gas decompression.
Features and Benefits
• Metal-on-metal primary seals- Prevents H2S migration into the motor and cable
• Pressure test port- Confirms proper connection prior to deployment
• Noncorrosive metal-encapsulated conductors
- Provides impermeable barrier to gas and fluid
- Prevents leaks due to corrosion
- Offers redundancy if one conductor shorts out
• Minimal fluid leak paths per conductor
- Mitigates potential fluid ingress into the motor
• Optimally spaced conductors
- Prevents shorts due to electrical arcs
• Recessed connection
- Prevents damage during ESP installation
• Self-aligning connection
- Speeds installation
- Eliminates potential human error
Applications
•Wells with high levels of H2S
•Wells with high gas content
•Wells that experience thermal cycling
•Wells with high intervention costs