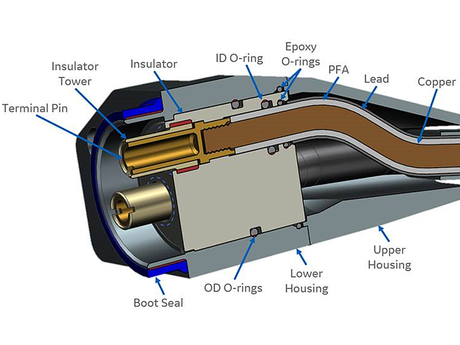 CentriLink 725 subsea-geothermal tri-lead
CentriLink 725 subsea/geothermal tri-lead
To ensure a reliable power connection for electrical submersible pumping (ESP) systems in your harsher offshore applications, count on the CentriLink 725 Subsea Connector motor lead extension (MLE) from Baker Hughes.
Your price
Contact us for pricing
The CentriLink 725 Subsea Connector MLE is designed to extend your ESP system run life by keeping fluids out. And with design features that include a PFA-insulated cap-tube encased cable and metal-to-metal tube sealing, the CentriLink 725 Subsea MLE ensures extended run life in environments that challenge the longevity of most ESP systems.
Features and Benefits
•Improve run life in offshore applications
•Gain installation flexibility with tape or mechanical splices
•Get reliable connectivity at temperatures ranging from 40°F to 275°F
Applications
•Conventional oil wells
•Unconventional oil wells
•Offshore Applications
Popular resources