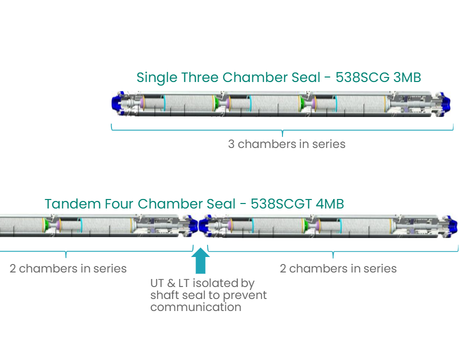 CENtigrade seals
CENtigrade seals
Optimize pumping operations in your thermal recovery applications with our CENtigrade™ seals. An integral part of the CENtigrade elevated temperature production systems, these seals are specially designed to improve reliability and extend system run life in high-temperature conditions.
Your price
Contact us for pricing
An integral part of the CENtigrade™ elevated temperature production system, the CENtigrade seal delivers proven protection from thermal stresses to your pump's internal components—ensuring higher reliability and performance in applications like steam-assisted gravity drainage (SAGD). CENtigrade seals are available in two design options. A single-shaft design containing three bellows chambers in series and housed in a single thrust chamber provides excellent protection to the pump's internals as it passes torque from the motor to the pump shaft.
And for your higher capacity pumping requirements, select our dual-shaft, four-chamber tandem design. The seal's two thrust chambers deliver greater torque to enhance artificial lift performance.
Both designs have high-durability features including carbide-coated down thrust bearings, shaft support bearings, and runner down thrust faces. Both options ensure reliable sealing and ESP performance at bottomhole temperature ratings up to 250°C (482°F).
Features and Benefits
•Ensures reliable motor protection from high-temperature well fluids
•Allows safe thermal expansion/contraction of motor oil
•Efficiently passes torque from motor to pump shaft with no leaks
Applications
•High-temperature well environments
•Thermal recovery applications
Popular resources