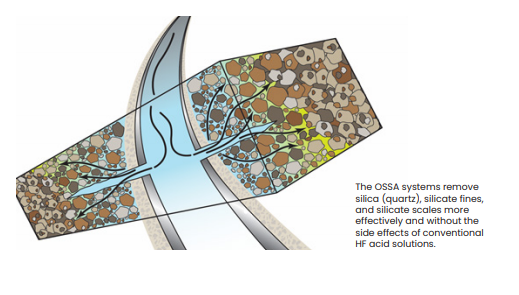 OSSA
One-Stage Sandstone Acid (OSSA)
Acid system that reduces treatment volumes, simplifies treatment execution, and lowers overall rig-time by eliminating the HCl acid pre-flush and post-flush that is required with conventional HCl/HF mud acids.
Your price
Contact us for pricing
The system's proprietary blend of retarding agents and enhanced clay-protecting additives work synergistically to control HF reaction, minimize secondary reactions in the near-wellbore region, and deliver treatment deeper into the formation. The OSSA system provides an alternative means for reducing breakdown pressure in tight sandstone formations and shale formations where initiating fractures are difficult.
Features and Benefits
• Eliminates HCl acid pre-flush and post-flush
- Reduces treatment fluid volume
- Simplifies treatment
- Reduces overall treatment and rig time
- Deploys in one, efficient stage
• Uses optimized chemistry
- Stimulates deeper and more efficiently in sandstone reservoirs
- Minimizes secondary reactions and damaging precipitates
- Incorporates surface retarding agents that eliminate fast reaction of HF acid
• Offers tailored and proprietary acid blends for sandstone stimulation and shale breakdown
- Decreases risk of formation damage and fine migration
- Provides higher reactivity with quartz than other conventional HCl/HF mud acid systems
Applications
• Acid fracturing and matrix acidizing in sandstone formations
• Spearhead acidizing in shale formations with high breakdown pressures
• Descaling and stimulation of geothermal wells
• Descaling and cleaning of sand control completions