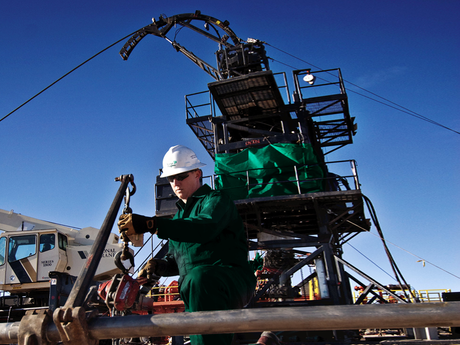 L688050-10
EasyReach™ Coiled Tubing Lubricant
EasyReach™ extended-reach coiled tubing lubricant is a mechanical friction reducer that helps coiled tubing gain access to long wellbores that were previously unreachable, even with conventional coiled tubing lubricants. It offers a friction-reducing solution that is economical, efficient, and logistically easy to deploy, helping improve predictability and improve well economics.
Your price
Contact us for pricing
The EasyReach lubricant represents a step change in predictable performance over previous coiled tubing lubricants. Baker Hughes engineers extensively test each lubricant using a novel coiled tubing (CT) linear friction testing methodology—the industry's first test protocol to effectively simulate real downhole CT conditions.

Lubricants are tested at various concentrations under a range of conditions that includes multiple fluid combinations, different coiled tubing materials with varying surface roughness, and different temperatures. The data gathered during this extensive testing is then used as input to the Baker Hughes CIRCA™ CT simulation and analysis software (for pre-job modeling) and CIRCA™ RT real-time CT simulation software (for on-the-job modeling). Through this detailed testing and analysis, you're assured a CT lubricant that is customized to your field application and which delivers far more predictable results in a wide range of CT environments.

When included in your well design phase, EasyReach lubricant allows you to plan longer laterals that offer greater access to the payzone, increasing job efficiency and production potential. In a growing number of field applications, the EasyReach lubricant consistently lowers the coefficient of friction (CoF) by between 40% and 60% while increasing lateral reach by as much as 120%.
Features and Benefits
• Enhances CT lateral reach compared to conventional CT lubricants
• Simplified access to TD in long laterals exceeding 13,000 ft
• Improves sliding efficiency and ROP
• Reduced coefficient of friction (40-60%)
• Delivers predictable performance
• Lab-tested under downhole conditions (HP/HT)
• Powerful CIRCA CT modeling software models tubing forces and provides flow analysis to simulate CT performance with lubricant
• Offers improved flexibility, efficiency
• Detailed pre-well job planning to optimize fluid applications
• Applicable in all CT operations