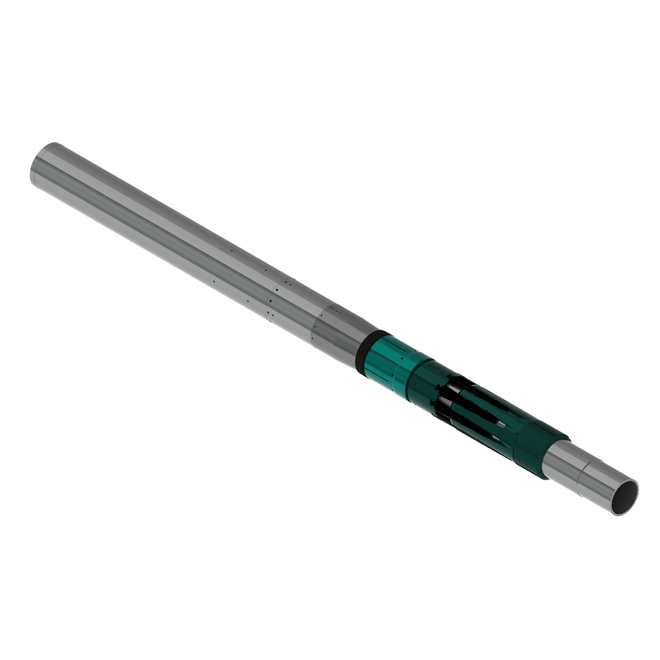 H29650-54
ZXTreme liner top packer
The ZXtreme™ liner top packer is a 15,000 psi (1,034 bar) ISO 14310 V0-rated, compression-set, liner top packer intended for use in high pressure / high temperature (HPHT) applications. The liner top packer is qualified beyond API ISO 14310 with stringent testing for high and low setting temperatures. This ensures that the system will perform at many combinations of loading conditions throughout its operating envelope, even in high-pressure wells that are not considered high-temperature conditions.
Your price
Contact us for pricing
Based on the ZXP liner top packer, the ZXtreme liner top packer uses an expandable metal seal body with a bonded elastomer seal and a robust FLEX-LOCK-style hold-down system. It uses operational pressure to "boost" the seal from above or below, ensuring that it will perform without requiring excessive set-down weight. For installation, the ZXtreme is rotationally locked to prevent component back-offs in the event that the liner is rotated while being lowered to the appropriate setting depth. The bonded elastomer seal element prevents swab-off at high run-in speeds or high circulation rates. The ZXtreme liner top packer is actuated by applying set-down weight to the tieback extension using a packer-setting dog sub or hydraulic-setting tool; a body lock ring system then holds a permanent set in the packer once it is actuated. The liner top packer ensures an adequate gas-tight seal while remaining anchored in the casing under extreme pressures and temperatures.
Advantages of the ZXtreme liner top packer include:
• Tested beyond industry standards 15,000 psi (1,034 bar) ISO 14310 V0-rated "Cold Set" ISO 14310 V0 for HP/LT (low temperature) applications
• Tested beyond API 11D1 V0 to accommodate high and low temperature settings
• Elastomeric seal bonded to expandable metal seal body prevents element swab-off at high run-in speeds and high circulation rates
• Seal element will "boost" from above or below
• Extremely robust hold-down system using
• Flex-Lock hanger technology
• Can transmit torque for liner rotation operations required to get to setting depth
• Rotationally locked to prevent component back-off
Features and Benefits
•Withstand extreme HP/HT conditions in deep, hostile environments
•Ensure superior hold down capabilities with FLEX-LOCK slip design
•Get reliable activation in both low and high setting temperatures
Applications
•High load capacity requirements
•Deep reservoirs
•HP/HT environments