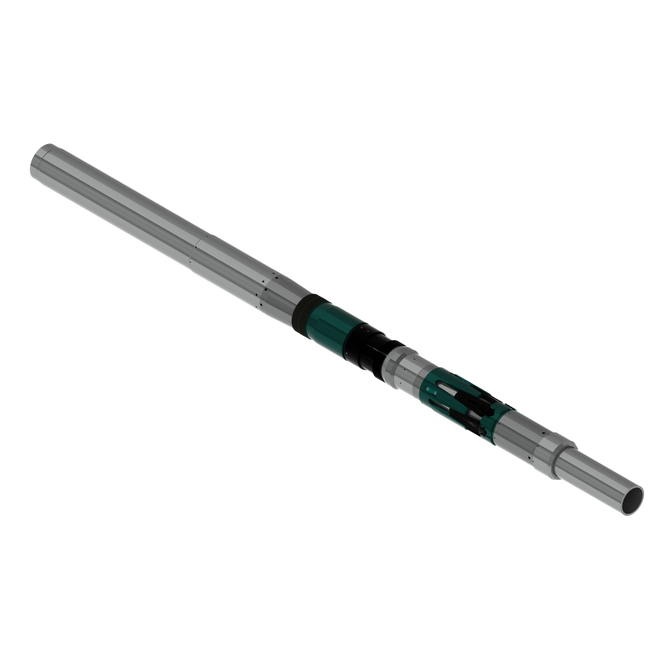 H29312
UniFlex Pro liner hanger/packer system
The UniFlex Pro™ liner hanger-packer is the industry's first integral liner hanger/packer system for cemented liner applications. It is built on a one-piece mandrel with no internal connections for added dependability. External moving parts are rotationally locked to the body, preventing the back-off of threaded outer components, even if demanding conditions call for extensive rotation to reach the bottom.
The UniFlex liner hanger includes a hydraulic-set FLEX-LOCK hanger section to provide maximum hold-down capacity and a ZXP liner packer to ensure maximum seal integrity. The liner packer has a single, premium threaded connection at the bottom of the tool. The UniFlex Pro version offers an ISO 13410 V0-qualified liner top seal that can be used when a gas-tight annular barrier is required. The UniFlex ControlSET version includes redundant hydraulic cylinders that allow circulation at high rates while drilling or reaming in a liner; this eliminates the risk of prematurely actuating the hanger slips. Advantages of the UniFlex liner hanger-packer system include:
Liner hanger and liner top packer are incorporated on one chassis
Compact design
Eliminates connection between hanger and packer
FLEX-LOCK slips
Provide maximum hold-down capacity
ZXP seal
Withstands high circulation rates
Ensures liner top integrity
Premium seal stack between the extension and packer body
Allows for higher pressure and temperature rating on tied-back applications
Standard HRD-E setting tool profile
Allows rotation of the liner hanger downhole and during cementing
UniFlex Pro Version
Provides ISO 13410 V0-qualified liner top seal
UniFlex ControlSET version
Eliminates presetting with a hydraulically balanced system.
Features and Benefits
Avoids damage to seals with moving components that are rotationally locked
Allows for unrestricted circulation pressure without prematurely setting the hanger
Applications
Applications requiring the V-0 qualification for packers and bridge plugs
Liner rotating while cementing
Ream-down or drill-down applications
Popular resources