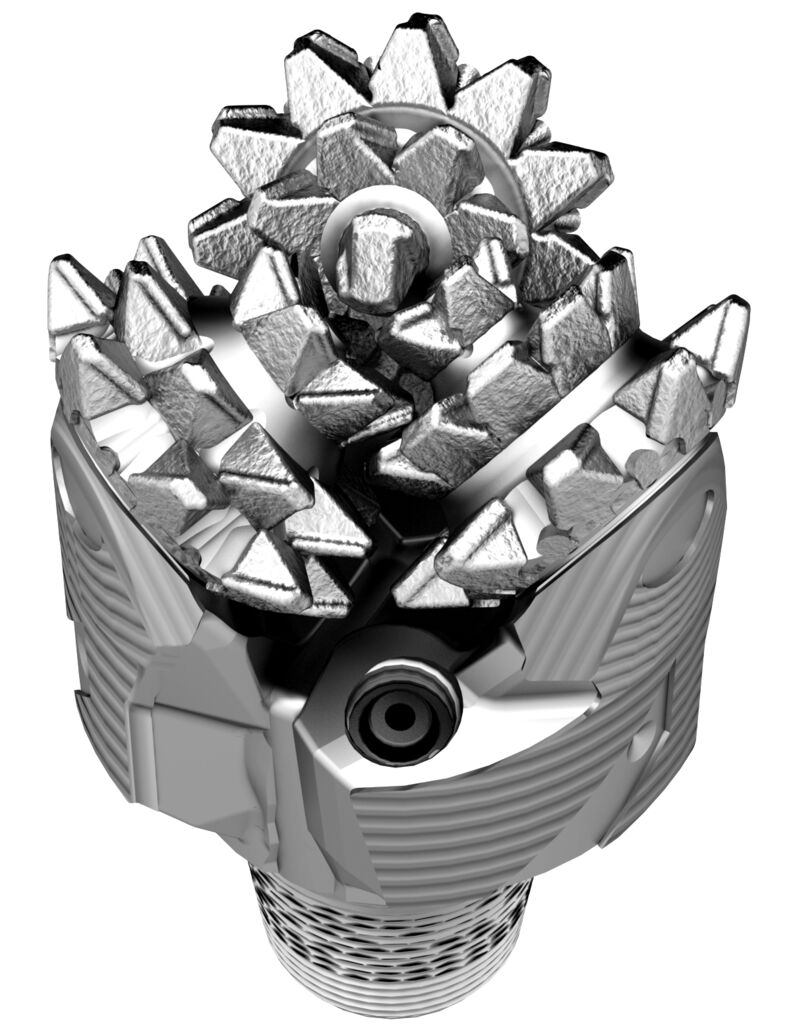 VSTDB
Vanguard™ Steel Tooth Drill Bit
Vanguard™ Steel Tooth Drill Bit from Baker Hughes address the primary issues associated with steel-tooth applications-the need for enhanced durability and speed. The VGNM-1 bit design gives operators the fastest drilling achievable in a range of soft formations, while the VGNM-3 bit design offers unprecedented durability against more demanding and extremely abrasive high-wear applications. Superior reliability in a wide range of applications is achieved with patented. An optimized high-count row minimizes bit tracking and improves drilling efficiency, allowing higher rates of penetration (ROP) over longer distances. high-aspect-ratio and metal-face seal technologies, while STL'• hardfacing protects the bit body, increases wear resistance, and extends bearing and grease-compensator seal life.
Designed to help you achieve maximum aggressiveness in soft-formation drilling, Vanguard™ Steel-Tooth tricone drill bits from Baker Hughes are setting new performance benchmarks. Operators are recording significant rate of penetration (ROP) gains with more footage and less trips using our improved steel-tooth cutting structure that extends bit life.

This drill bit features a new high aspect ratio (HAR) elastomer seal or patented metal-face seal and a new cutting structure. The shirttail and leg (STL) hardfacing enhances seal and leg protection. The patented pyramid tooth cutting structure shows superior ROP through shale formations by mitigating balling.

Features and Benefits
•Deliver maximum rock destruction and improved ROP in a full range of formations and applications
•Improve reliability for longer drilling hours downhole
•Increases bit life in abrasive drilling environments
Applications
•Performance drilling operations in soft formations
•Rotary and motor applications
Popular resources