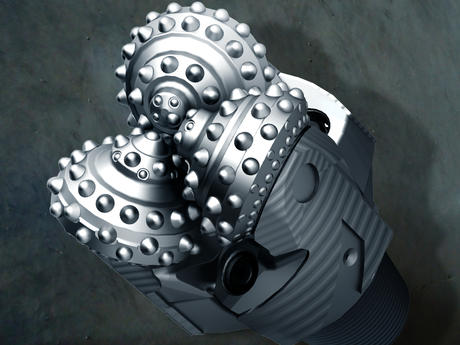 VGTDB
Vanguard™ Geothermal Tricone Drill Bit
The Vanguard™ Geothermal tricone bit from Baker Hughes offers application-specific bearing packages that deliver unsurpassed reliability across a wide high-temperature range. On average, Vanguard Geothermal Bits, equipped with metal-face seal, drill 18% longer hours than bits with conventional elastomer components. For circulating temperatures up to 350°F (177°C), the Baker Hughes Vanguard tricone (VM) equipped with a conventional metal face seal bit is ideal. A proprietary metal-to-metal sealing system provides unmatched reliability in temperatures beyond the capabilities of ordinary, elastomer-based designs. For even higher temperatures, the Vanguard Geothermal tricone bit can incorporate a high-temperature, metal-face sealed-bearing package designed specifically for drilling in circulating temperatures of 275°F to 550°F (177°C to 288°C). This sealed-bearing system drives performance and reliability by replacing all of its elastomer components with specially formulated, high-temperature compounds that are more resistant to thermal degradation and compression set.
Your price
Contact us for pricing
Our Vanguard™ geothermal tricone drill bits reduce bit trips by staying in-hole longer. You can rely on our patented metal-face seal with high-temperature elastomer components, specifically designed for continuous drilling up to 550°F (288°C), to improve drilling economics.

Traditional roller cone elastomer seals, rated up to 275°F (135°C), don't perform in high-temperature environments, resulting in early seal failure. Our technology easily surpasses this temperature barrier. We're collaborating with operators who are recording significant improvements globally in geothermal drilling operations. By increasing your ability to drill successfully, regardless of your location, Vanguard geothermal tricone drill bits are economically accessing clean energy sources.
Features and Benefits
•Longer continuous operation in HT environments
•Lower NPT
•Greater reliability in high RPM and HT conditions
•Improved efficiencies for faster ROP and reduced vibrations
•Enhanced outer diameter protection for consistently drilling in-gauge holes and improved seal reliability
•Increased bit stability for superior borehole quality
•Extended cutting structure life in abrasive environments
Applications
•Geothermal drilling
•High-temperature environments
•Rotary and motor applications
•Air drilling applications