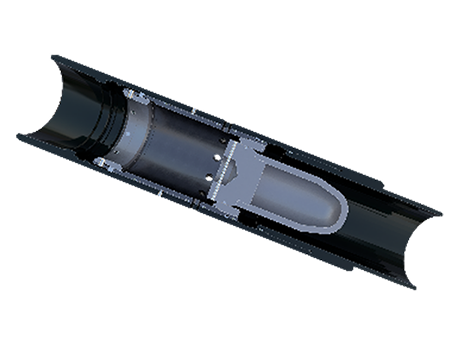 H30278
Mechanical Acuated Cementing Valve
Get assured cement placement for long-term zonal isolation with the mechanically-actuated cementing (MAC) valve. An integral part of the ISOZONE™ external casing packer (ECP) system, the MAC is run above the ECP and places cement precisely where you need it. The valve's simple, proven single-sleeve design ensures reliable operation. Once the packer has been set, a free-fall-opening plug is deployed and lands on the MAC valve's upper seat. Internal inner string pressure opens the MAC valve's circulating ports to allow pumping of a second stage of cement into the annulus.
Your price
Contact us for pricing
A closing plug chases the second cement stage and lands in the MAC's closing seat, which closes the cementing ports and establishes full casing integrity. If your well doesn't require a second stage, the free fall opening plug is fitted with a cancellation sleeve and dropped downhole to cancel the tool. The MAC maintains the same integrity as the casing, even during hydraulic fracturing operations. It is also PDC drillable, which allows for easy removal once your completion install is finished.
Features and Benefits
•Enables operations in deviated wells with a hydraulic actuation system
•Matches the burst and collapse ratings of the casing string
•Shields the open/close pistons from debris to ensure reliable operation
Applications
•Deeper and hotter and wells
•Lower-pressured wells
•Deviated wells