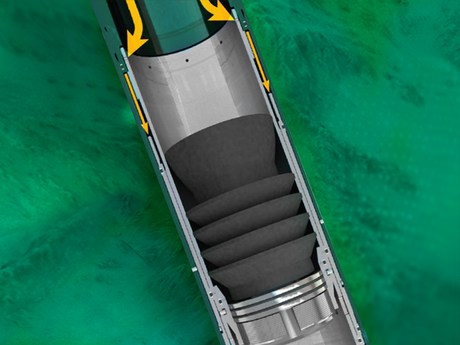 H30112
Pressure Actuated Cementing Valve
Ensure reliable second-stage cement placement and effective annular isolation with the pressure-actuated cementing (PAC) valve from Baker Hughes. A hydraulically operated stage cementing valve, the PAC valve provides circulating ports between the inside of your casing or liner and the annulus. The valve's simple design ensures an easy method of opening and closing by blanking the casing or liner at some point below the valve.
Your price
Contact us for pricing
You can confidently run the PAC valve anywhere in the liner casing and with any Baker Hughes inflatable external casing packer (ECP) in your vertical, horizontal, and deviated wellbores. Once the ECP is set, the PAC valve is opened by blanking off the opening sleeve shear screws and shifting the opening sleeves down. This opens a communication pathway between the valve's inside diameter (ID) and your well annulus. After pumping the cement slurry, a wiper closing plug lands in and closes the PAC valve, resulting in full casing integrity. The wiper closing plug is designed with an anti-rotation feature, allowing easy drill-out of the plug and seat.
Features and Benefits
•Ensures easy drill-out with anti-rotation closing plug and seat
•Avoids accidental shifting by hydraulically and mechanically locking the closing sleeve in the closed position
•Provides easy adjustment of opening and closing pressures for individual applications
Applications
•Two-stage cementing of casing or liners
•Isolation of lost circulation or lower sensitive zones
•Vertical and horizontal well applications