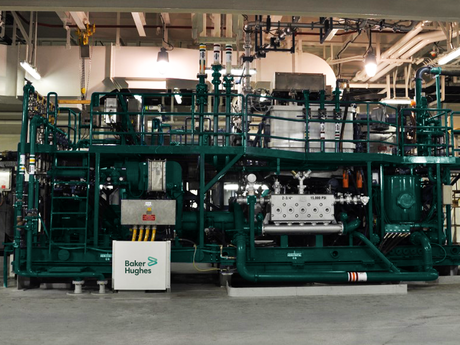 CPOF
SeaHawk - 1000 BHP Unit
The Seahawk™ is a dual skid mounted cement mixing and pumping unit providing providing reliable, automated mixing and pumping operations and reduces health, safety, and environmental risks.
Bring assured reliability and efficiency to your offshore cementing operations with the Baker Hughes SeahawkTM cementing unit. By automating your mixing and pumping operations, the Seahawk unit dramatically lowers your NPT and health, safety, and environmental (HSE) risks.
The Seahawk™ cementing system was designed with HSE as a guiding principle, with features that include:
•No personnel exposure to high-pressure components and manifolds during operation
•Fewer exposed rotating parts
•Near dust-free mixing environment
•Minimal exposure to noise and vibration due to control panel location
•Sectional design of separate components for increased safety and ease of installation offshore
•Select from different Seahawk unit models, depending on your pumping requirements:
The Seahawk 1000 BHP diesel unit is rated to 850 hydraulic horsepower (HHP) and capable of working pressures up to 15,000 psi (1034 bar). The unit includes a dual independent system driven by Cummins QSM11 engines, through Allison 4700HD transmissions, driving the Baker Hughes pacemaker pump.
Features and Benefits
• Minimizes NPT with reliable twin-pump design
• High horsepower capabilities
• High energy mixing system delivers homogeneous slurries
• Near Dust free environment
• Unit can be disassembled to fit through openings as small as 5 x 7 fit
• Provides 100% redundancy
• Controls, monitors, and records job parameters for online, post job analysis