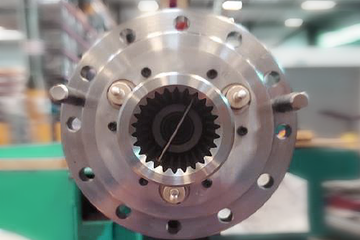 PreService motors and seals
PreService motors and seals
Save rig time with our PreService™ seal systems, which are pre-serviced at the factory. You'll save hours at the rig while also improving operational efficiency and preventing contamination of parts.
The PreService system removes these potential challenges by shifting final fill and servicing from the rig floor to the factory. By eliminating all oil service operations at the rig, the PreService system saves hours on the rig floor and reduces the amount of time that the motor connection is exposed to the elements.
The system incorporates several unique design features to ensure that your pre-serviced equipment is transported safely and arrives to your rig site in the same condition that it left the factory.
•A special shipping cap allows the oil in the motors to expand and contract with temperature changes during storage, shipping, and handling
•Modified base assemblies and couplings in the seals and motors prevent oil flow after removing the shipping cap prior to assembly to the tools below
•A shifted flange location helps eliminate any air pocket prior to assembly
•A special coupling raises upon connection to the motor shaft below, which restores full oil communication between motors and seals
The PreService system continues to build a proven track record of success in delivering fully serviced electrical submersible pumping (ESP) systems to rig sites around the globe. By reducing the time and complexity of field installs, the system delivers improved field service efficiency, lower health and safety risks, and a shorter time to bring wells into production.
Features and Benefits
•Reduce rig time and improve efficiency of field technicians
•Ensure all filling operations are conducted consistently in a safe environment
•Reduce operations risks and costs
Applications
•Offshore and remote locations where rig time is expensive
•Land locations with a large number of installs
•Field locations with a limited numbers of field service technicians
Popular resources