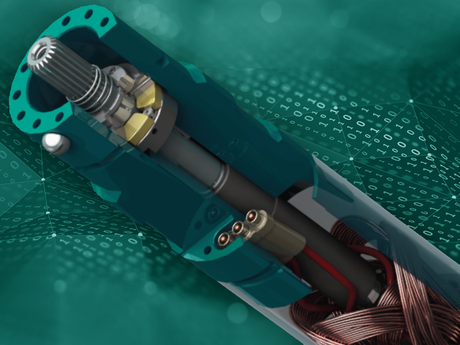 CENtrilift Superior Performance series motors
CENtrilift Superior Performance series motors
The CENtrilift™ Superior Performance (SP) series motor from Baker Hughes is engineered to meet the industry's increasingly stringent requirements for greater reliability in demanding downhole conditions. The CENtrilift SP motor is built on the foundation of Baker Hughes motor technology innovations, which are industry-proven to extend motor life and improve motor efficiency—allowing you to reduce overall lifting costs.
A proprietary non-magnetic, stainless steel bearing carrier in conjunction with all-steel laminations optimizes motor efficiency and lowers bearing operating temperature.
•The patented anti-rotation elastomer T-ring design improves reliability by preventing bearing spin while at the same time allowing axial movement during thermal cycling.
•A compliantly-mounted tungsten carbide bushing and sleeve at the head and base provide robust support at the motor base.
•An optimized rotor and stator magnetics optimizes electrical efficiency, which helps you reduce power expenses and lower overall lifting costs.
•High-performance shaped rotor bars and enhanced rotor lamination geometry drive greater efficiency.
•An open-stator design uses enhanced insulation materials and a special environmentally friendly coating to restrain the windings for reliable performance in a wide range of operating conditions.
•Closed slot stator laminations contain wires and optimize slot fill to maximize efficiency while an enhanced insulation system improves thermal life.
•A new full diameter high strength motor shaft, enhances the SP motor's longevity and horsepower ratings in hard-start applications.
The CENtrilift SP motor is built for your operating temperatures up to 350°F (176°C) thanks to the robust wire insulation system, and motor head insulation block and connecting motor lead extension (MLE) that exceed system reuirements. The motor connects seamlessly to the CentriLink™ MLE, which features the industry's highest temperature and voltage ratings. The MLE's in-line connection design provides a lower profile to minimize the risk of damage during system installation.
Features and Benefits
•Get extended motor life to reduce lifting costs
•Maximize efficiency and improve electrical and mechanical performance with enhanced rotor/stator design
• Get higher horsepower capacity with high power density up at temperatures for most well applications
Applications
•Conventional oil wells
•Unconventional oil wells
•Gas well dewatering